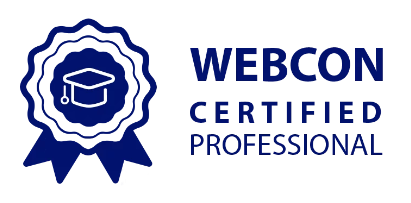 WEBCON Academy courses impart knowledge and practical skills in using WEBCON BPS and implementing business applications. The C1A and C1B certification courses end with an exam and the awarding of the WEBCON Certified Professional certificate attesting to knowledge of WEBCON BPS functionalities as well as the competence, experience, and professionalism in carrying out projects and implementations. The certificate is valid for 2 years, after which it must be updated by attending a recertification course. From September 2023, the approach to recertification will change.
The entire course lasts two days:
- The first day is a presentation of the changes and innovations introduced in the last two "major" versions of the system – this year, versions 2022 and 2023. The presentation is led by WEBCON trainers and includes practical demonstrations and application examples, interspersed with Q&A sessions.
- On the second day, the floor is given to the participants:
We start with a short theoretical test. It covers information about changes and new features in the last two versions of WEBCON BPS – according to the documents published on the WEBCON Community site (WEBCON Community).
Those who pass the test will be asked to give short presentations (max. 15 minutes) on the most interesting projects completed in the last two years. This can be the pre-implementation analysis as well as the implementation itself, an interesting use of WEBCON BPS functionalities or own solutions that complement the work with BPS. The form and content of the presentation are free.
The summary session is a time for exchange of experience, consultation and integration, and an invitation to become an active member of the WEBCON community.
Throughout the recertification, we provide access to individual working environments with the latest version of the system. For more information and upcoming dates click here: WEBCON ACADEMY - Certification program | WEBCON. If you have any further questions, please do not hesitate to contact us.
Why bother?
If you are our Partner – your current and future clients will be sure that they can trust your current knowledge, experience, and professionalism.
If you are our Client – you can be sure you will not miss out on any new features which could prove useful in your company.
If you are an Employee – a valid WEBCON BPS certificate opens numerous possibilities on the job market for you.
Having a valid certificate means that you stay among the top implementers, consultants, and analysts worldwide and your skills and knowledge of the system have been verified by WEBCON experts with many years of experience.